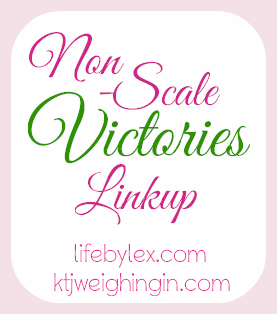 Today I'm linking up again with Katie & Lex over at KTJ Weighing In for the Non-Scale Victories link up. Here goes:
My first NSV is another one I found at school. My nursing school bestie is a wee little Asian man (ok he's not THAT little, but he's much smaller than me) who walks like the devil is chasing him ALL the time. Now when I was bigger I REALLY had a hard time keeping up with him, sometimes I would just say "Go on, you don't have to wait on me" (although I don't know WHY he's always in such a hurry, he reminds me of the white rabbit in Alice in Wonderland, but I digress) and he would slow down. And God forbid we really had a REASON to hurry, sheesh, it was like running a marathon to keep up with him. I mean by the time we reached the nursing building where our classes were I'd be totally out of breath. Since losing the weight not only can I keep up with him while he's walking at his normal pace, the other day we wanted to get a coffee during break & we sprinted to Starbucks to make it there & back in the time we had & I kept up with him the whole time AND I wasn't even out of breath!! It's such a good feeling knowing that even this small amount of weight that I've lost has made a difference.
My second NSV is about my stomach. I carry all of my weight in my stomach, I am a true apple shape (unfortunately) & there are MANY times when my stomach is just in the way. Tying my shoes, bending over to pick something up off the ground, etc. I've noticed that after losing the weight my stomach isn't in my way so much & it's a really great feeling.
And lastly my third NSV actually has to do with my weight. I am excited to see that I have been able to maintain my weight loss even when I'm not perfect on the plan. It makes me excited to get to that finish line & know that I won't have to constantly worry about every bite of food I put in my mouth. Does that make sense?
Anyhoo, those are my NSV's for this week. What are yours?