Today I am linking up with KTJ over at KTJ Weighing In for her NSV (Non Scale Victories) link up.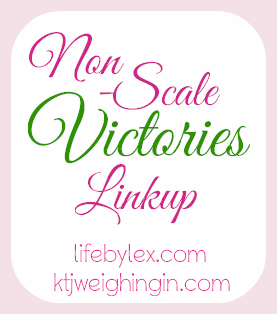 I haven't linked up previously because although I am losing weight, I just really couldn't think of any NSV's to report, but this week I have TWO NSV's!!
My first NSV came at school. At school our secretary's office is upstairs, and the other day I needed to talk with her. Now, we have an elevator in the building, but come on, this is nursing school. WHO in their right mind is going to be the one to take the elevator? I mean we're supposed to be healthy, health professionals, what shlub is going to take the elevator? Hence, no one hardly ever uses it. I digress. So, as I said I needed to go talk to Kim about something & was in a hurry b/c we were only on a 10 minute break from class. So I hustled out of class and BOUNDED up the stairs. Yes, I practically RAN up that set of stairs, not once but THREE TIMES & guess what? I was only a teensy bit out of breath when I got to the top!!!!!!! You guys have to understand, I usually CREEP up those steps & by the time I get to the top I am DYING with SOB (shortness of breath)!!!!!!!!! I was so super proud and happy that I could do that, and it really showed me that this weight loss really is making a difference.
My second NSV came the other night when my precious baby girl got an award from the Mayor & alderman of the town we live in. She wrote an essay on why she loved our town and out of 1200 essay's hers was one of the winners!!
I was VERY proud of her to say the least.
Anyhoo, the award involved a reception, so I decided to wear this dress that I've had since last summer. The last time I wore this dress was around Christmas time and although it fit then, it was a bit snug
(and that was with my minimizer on!)
Well I put it on the other night, sans minimizer, and guess what? I could REALLY tell a difference in how the dress fit! I kept looking in the mirror to verify that there really was a difference, and there was!! I was so excited! I have read before that when you're a bigger person that your size changes with every 20 lbs, whereas with smaller people it's every 10 lbs. Even with 15 lbs down I can still tell a difference in my dress & that was very exciting/motivational.
Speaking of motivational, I was reading Katie's blog over at
Runs for Cookies
& she was talking about her weight loss & how she couldn't have done it without exercising. She said that in the past she had lost weight before but that she struggled to keep it off & had yo-yo'd for years but that her real breakthrough came when she added exercise into her routine & KEPT IT THERE. It really got me to thinking about my own weight loss journey. While I am losing weight every week and I'm VERY happy with my progress, I have to think of how much MORE effective I would be with some exercise. Of course my excuse has been that it has been cold outside (and it SERIOUSLY has been), but now it's starting to warm up (thank you Lord!!) and I feel like this is the time that I really need to start incorporating some exercise into my weight loss. Something else she said in one of her posts was the difference in her body that exercising caused. She said that she had lost weight previously & had been the same weight that she was now, but that without exercising she was like 2 sizes bigger, AT THE SAME WEIGHT. Isn't that crazy? I mean we've all seen people who weigh the same amount but one is a size 6 & the other is a size 10 and usually we just chalk it up to different body types, but now we're talking about the same girl. Same weight, different sizes & she said it's all from exercise. Definitely something to think about and seriously contemplate in my own journey....
Anyhoo, sorry this post was so long. I hope you guys are having a great week! It's almost Friday!