Soooo, this week I've been at a bit of a self imposed stall. Like I said previously I weigh myself daily so that I know where I'm at. I don't think I have tracked one time this week, because my schedule has been so helter skelter. I knew that this week was going to be like this though. Yesterday was my 16 year anniversary to my wonderful hubster. Unfortunately we didn't get to do a big thing b/c we had to go to a basketball banquet for our daughter but we did end up going out to eat afterwards. We went to Logan's & I don't care what anyone thinks I was FULLY prepared to have me some dessert to celebrate, but alas my stomach just said no. There just wasn't any room left. But I didn't do that bad really & was proud of my choices actually. Here's what I had:
6 oz. filet & lobster tail
1/2 serving of their fried onion petals
mac & cheese as my other side (of which I ate every bite)
Pretty ok right? Well I'm pretty sure that's not where the calories came in. The real calories were in this drink that I ordered. I wish I could remember the name, but it's some Mango/Rum drink that they served in this HUGEMONGOUS mason jar that didn't taste like it had a bit of alcohol in it, but it was really sweet & yummy. So I guess technically you could say that I did have my dessert.
All in all I made a pretty good choice & I was happy with myself, plus I ate a pretty good lunch yesterday beforehand & this morning my weight was only up by 1 lb, but I'm sure that's just sodium. My goal is still to get to that 263 so I can take my first set of "after" pictures & I promise I will get there soon!!
Now on to my NSV linkup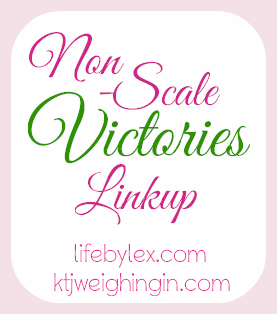 Last night when we went out to eat I put on this coat that I've had for forever. Sadly since I've owned this coat I have never zipped it up. It fit ok, it was just too tight to zip but guess what? Last night I put that sucker on & not only could I zip it up but I could wrap OVER the zipper. I was pulling it around me & could actually pull the closure past each other. Seriously, I am starting to love NSV's more than the scale itself, it's so fun to discover these new things!! I would love to hear some of my reader's NSV's as well!
Hope you guys have had a great week!!
P.S.
Guess who is now a follower of this little 'ol blog??? That's right,
TIFFANY
!!!!!!!!!!! My super gorgeous, healthy, 187 lb weight loss champion!!!!!!!!!!!!!!!!! I'm so excited that she's following my blog & I hope to be just as inspirational to others as she has been to me (and tons of others I'm sure).
Now the pressure's really on to do good....:)